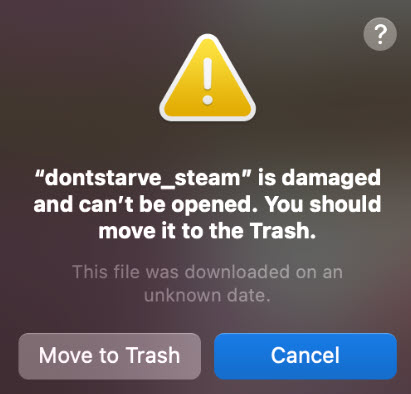 If you are encountering an error message similar to; '"dontstarve_steam" is damaged and can't be opened. You should move it to the Trash'. on your MacOS device when playing Don't Starve or with Don't Starve Together:

As a first troubleshooting step, you will need to ensure that your local account on the MacOS device has full administrator privilege to read/write/access your hard drive. You can find more information on administrator privileges for local mac user accounts here: https://support.apple.com/en-ca/guide/mac-help/mtusr001/mac

If you have tried the above and the issue persists, please follow the steps below, as these will allow you to play the game on your MacOS device:

1) Navigate to your Steam Library list, right-click on Don't Starve > Click on "Manage" > and click on "Browse Local Files"; this will open up your installation folder.

2) Right-click on the donotstarve_steam app > select the OPEN button; this will provide another error message indicating the following:
"dontstarve_steam is damaged and can't be opened. You should move it to the trash."

3) When you encounter that error message, click on the OPEN button. This will force the MacOS device to launch the game successfully. Once you are able to successfully launch it once this way, you only need to click on the PLAY button on Steam to launch it going forward.

If you have tried all troubleshooting steps and are still unable to play the game, please report your issue in the Don't Starve Bug Tracker with your logs and information for bug reports.