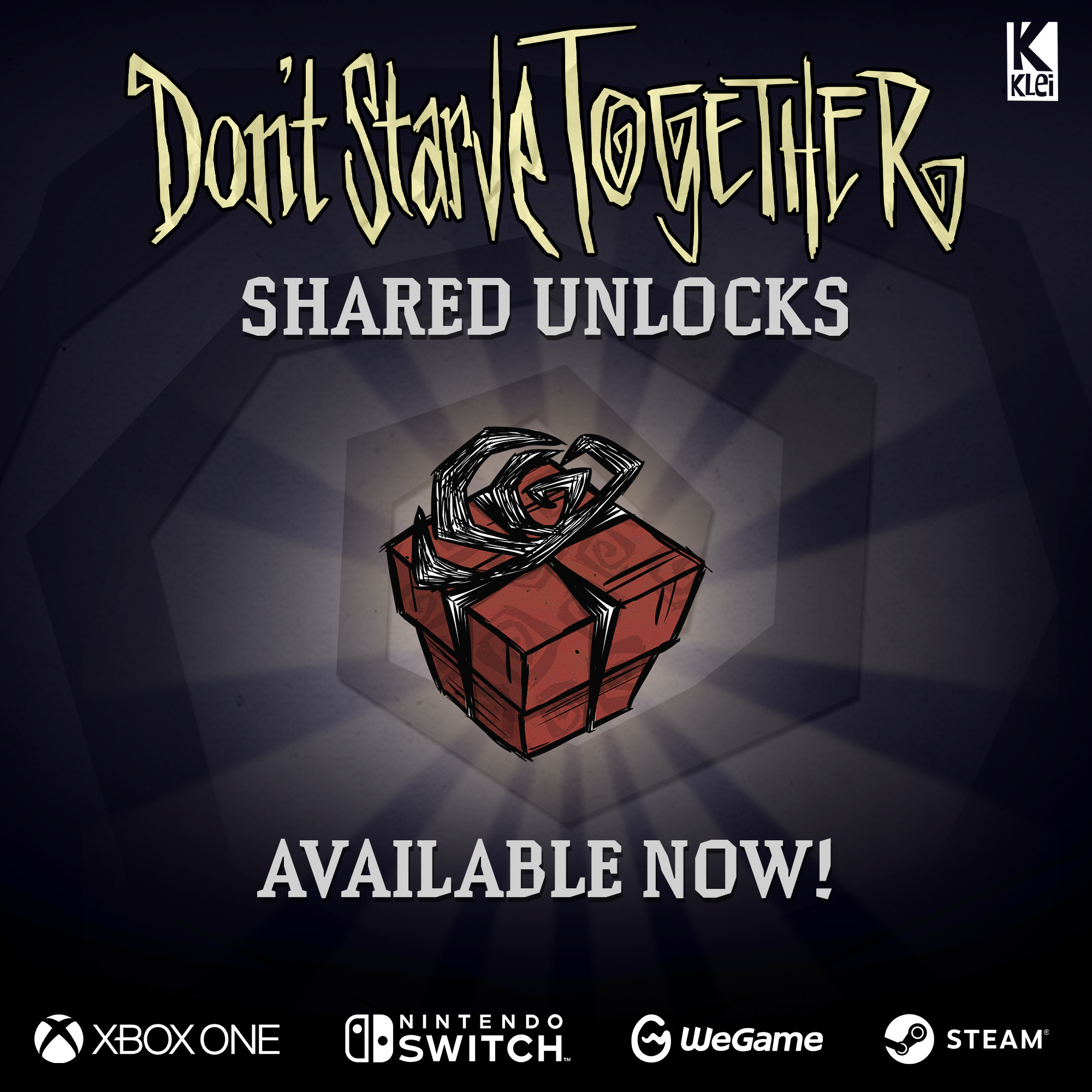 Since the launch of Don't Starve Together we have been building resources for our players to be able to get cool item skins in lots of different ways. Now, players will be able to share these skins across participating platforms.

We know there are a bunch of questions about this, some of which we have the answers to below.

Will this be available on PlayStation?
At this time we don't know. We're trying, but unfortunately, the requirements to get this on to PlayStation are more than a studio our size can handle for such a service.

We have been preparing for this for a long time and now that we have several platforms ready to participate, we decided to move forward. We understand that this is going to be very disappointing for some players and we want you to know that if/when we can make this happen for you, we will implement it as soon as we possibly can.

How will I merge accounts for Shared Unlocks on multiple platforms?
You will find a step-by-step guide on how to merge your accounts for Shared Unlocks on our support site here: DST - How to merge accounts for Shared Unlocks on multiple platforms

How will this work?
When players get drops, these drops are granted to your Klei Account and that's what you have in-game. You will be able to merge multiple platform accounts onto a single Klei Account and seamlessly use your items on everything connected. This includes crockpot recipes, plant registry, item skins and characters that you gained through drops including woven characters and skins.

Bolts (Premium Currency) cannot be shared between platforms.

How are drops affected?
All connected accounts will share a single drop pool once connected. All connected platform accounts will act as 1 single Klei Account.

Does that mean we get Crossplay soon?
No, but maybe? Just like shared items, crossplay is something we would love to do. However along with it being a lot of work to implement these are things that aren't necessarily accessible to smaller teams like ours. But times are changing and hopefully in the future things like this will be made easier for all developers.

IMPORTANT NOTE
Please be aware that the Merge An Account process will require you to choose one Klei account/Klei User ID to be your primary account. Once you have picked your primary account/Klei User ID, the secondary account that you merge to your primary account will have their items/unlocks added into the primary account. That primary account (including shared unlocks) becomes the only account on all merged platforms.

Because the primary account becomes the account used for all merged platforms, this process will have an effect on a number of things in-game on the platform where the secondary account is replaced by the primary account, aside from getting access to all items in the shared unlocks. These include:

Don't Starve Together:
Cookbook recipes will be replaced.
Plant Registry will be replaced (including plants, fertilizers, and largest weighed plants).
Items in the character's inventory, equipped, holding, etc will disappear unless dropped on the ground or in storage (probably preferably near the spawn portal for quicker access).
Learned recipes unlocked through prototyping will need to be re-prototyped.
Minimap progress will be cleared. To make this easier for large clears it may be useful to make a
Map Scroll from a Cartographer's Desk to drop with the other held items to relearn what was known.
Followers for characters like Webber should be dismissed. This includes beefalo bell affinity.
Server administrators will need to update their KU in adminlist.txt to retain admin rights on servers they control.
Server administrators will need to create new server tokens to use in cluster_token.txt as all previous tokens will be invalidated.
We recommend starting the account merging process by choosing the Primary account that you play the most actively, and do not want to be affected.

You can merge accounts and access shared unlocks on multiple platforms by following the steps in our support guide.